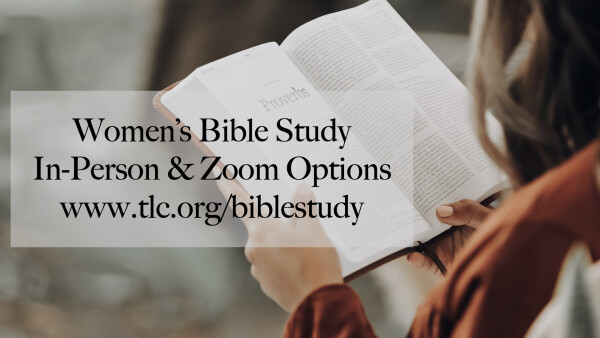 Winter/Spring Studies
Monday PM In-Person Studies

Click Here to Sign up for Monday PM In-Person Bible Study
Winter Session

Good Boundaries and Goodbyes
- Loving others without losing the best of who you are.
by Lysa Terkeurst
A six-session bible study to help you with effective boundary setting through communication and healthier patterns, determine appropriate emotional and personal access, understand wrongly interpreted Scriptures, and be equipped to say goodbye in destructive relationships.
As an added bonus there will be wisdom from Lysa's Christian Counselor Jim Cress.

Facilitator: Susan Hurley
Study Guide $15.00
Reading Book $20.00
February 6 - March 20
6:30 - 8:00 pm
Room MH 7107
Spring Session
Joshua
- Winning the Worry Battle
by Barb Roose
A seven-session bible study on the Book of Joshua. Find encouragement for handling life's concerns that cause us to struggle with worry, anxiety, and fear. Be equipped with Scripture-based, practical tools to bravely battle worry. God gave the Israelites victory over their enemies and generously blessed them. He wants to do the same for us.

Facilitator Susan Hurley
Study Guide $14.00
March 27 - May 8
6:30 - 8:00 pm
Room MH 7107
Monday PM Zoom Study
Click Here to Sign Up for Monday PM Zoom Bible Study
Winter Session
Encountering God by Kelly Minter
January 9-February 27, 2023
*No class 1/23
Zoom
Time: 6:30-8 pm

Spiritual disciplines are essential to a more vibrant spiritual life and to know God more intimately. Join Kelly Minter in this 7-session Bible study as she unpacks the biblical foundation for these sacred habits along with approachable ways to practice disciplines like prayer, study, worship, rest, simplicity, generosity, celebration, and many more.
Spring Session
From Beginning to Forever by Elizabeth Woodson
March 13-May 8, 2023
*No class 4/3
Zoom
6:30-8pm

In From Beginning to Forever, Elizabeth Woodson guides you through the story of the Bible, showing how all 66 books combine to form one unified narrative. Weaving together the rich theological truths found in Genesis through Revelation, this 8-session study shows the eternal significance of what God is doing in the world and how he invites us to be a part of it.
Tuesday AM In-Person Studies
Click Here to Sign Up for Tuesday AM Bible Study
Option #1
Precept Upon Precept Inductive Studies . . .The Holy Spirit Unleashed in You - Acts
Miracles . . . boldness . . . courage to preach the Word of God. Do you want this power, the power to witness for Christ in hostile circumstances - your workplace, maybe even your home? Learn how to depend on the power of the Spirit from the Lord's dynamic work among first believers.
13-week Study. Six days of guided lessons, 20 to 30 minutes long, help and teach you how to discover God's precepts, purposes, and promises on your own. Questions for group discussion or individual study are provided on Day Seven along with closing commentary.
This class is limited to 15 women
Facilitator: Sandra Jensen
January 24th until May 2nd
Location: Monschke Hall
Time: 9:30am-11:30am
Book Fee $12.00
Option #2 - Session 1
Get Out of Your Head (A Study in Philippians) by Jennie Allen
Facilitator: Bonnie Evans
Dates: January 24th until March 14th.
Location: Monschke Hall
Time: 9:30am-11:30am
Book Fee $13.00
Our enemy is determined to get in our heads to make us feel helpless, overwhelmed, and incapable of making a difference for the kingdom of God. But when we submit our minds to Christ, the promises and goodness of God flood our lives in remarkable ways.
Option #2 - Session 2
When Strivings Cease, by Ruth Chou Simmons
Dates: March 21st until May 2nd
Location: Monschke Hall
Time: 9:30am-11:30am
Book Fee $15.00
In this hustling, image-forward age of opportunity, we feel more anxious than ever. Despite all the affirming memes and self-reflections that dominate social media feeds, approval and worth often seem assigned to what we do rather than who we are. And we end up constantly feeling like we're behind, lacking, and failing—at home, at work, with friends, with God.
Wednesday PM
THE GOSPEL ON THE GROUND
Facilitator: Valerie Webb
Come along with biblical culturalist Kristi McLelland as she unpacks the life of the early church in the book of Acts and shows us that the church of God is always on the move, always looking outward to bring meaning and joy to a world searching for true fulfillment and hope. See how God's Word can sustain us even in the most difficult of times and embrace the transformative grace we experience as children of God.
Mid-Week Classes - Winter Session II
WEDNESDAY NIGHTS: FEB 11 - APRIL 5, 2023
TLC CAMPUS, 7000 BUILDING (MONSCHKE HALL)
No need to pre-register - just show up!
Dinner: 5:15–6:15pm // $6 Adults; $3 Children 3-12; $15 Family of 4 or more
Classes: 6:30-7:45pm
Children's Program: Infant-5th Grade
Better Together


A grace-focused prayer and fellowship for Moms of LGBTQ+ kids.

Winter Book Selection:
Love Makes Room
- and other things I learned when my daughter came out By Staci Frenes

When Christian singer and speaker Stace Frenes learned her teenage daughter was gay, she found her dreams for the future collapsing around her. Coming to terms with a new reality offered an invitation to make room for many things: the inevitability of uncertainty, hope in the midst of loss, awkward and tough conversations, an expanding faith, and a greater understanding of how people are more the same than different.

Please order your book through your favorite book distributor.

Click Here to Sign Up for Better Together

Facilitator: Susan Hurley,
Meets the first Monday of each month at 1:00pm in Modular 8122
February 6, March 6, April 3rd, and May 1
Self-Directed Online Study
LOOKING AT JESUS - AGAIN
Would you agree that one of the best ways to get to know someone is to listen carefully to them as talk to you and to other people? What are they interested in and why? Are they able to listen to and care about others?
You are invited to join us as we study the Gospel written by Mark in order to meet Jesus through His conversations.
You'll be amazed and inspired as you discover more about Jesus and His love for you through these stories.
It's a 13-week study beginning January 13, 2023. You are also welcome to print out these study guides in order to use them on your own schedule. Introductions to each lesson will be posted every Friday - www.westudytogether.com
If you subscribe, they will be sent automatically to your e-mail address.
Weekly Bible Study Videos
You will need a password to view the videos contact to receive the password.
Monday PM
Tuesday AM
Social Media
Our TLC Women's Ministry provides an inviting, open, and warm atmosphere. Make friends you can relate to, find support for everyday life, and learn to live what the Bible teaches. We're eager to include you! If you have any questions, please contact us:
831-465-3364 | | |