We want to help improve your marriage. Through seminars, retreats, small groups, and couples events, struggling marriages will gain tools to improve and thriving marriages will grow even stronger. Whether you have been married for a week or 50 years get involved today!
Marriage Classes
Various classes designed to support and encourage marriages are held periodically during the midweek adult classes which occur in the winter, spring, and fall. For more information, contact Jim at or 831-465-3331.
New Married Hangout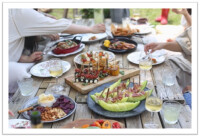 Inviting all engaged and recently married couples (5 years or less) to join us for dinner as an opportunity to get to know other couples.
Saturday, August 20th, 6:15 pm in Scotts Valley at Pastor Jim and Suzi Josselyn's House.
Small Groups
Life is better in community. Join or host a small group! For more information, visit tlc.org/smallgroups or contact Jennifer: • 831-465-3358.
Divorce Care
Find help and healing for the hurt of separation and divorce. Topics include facing depression, loneliness, new relationships, financial survival, kid care, forgiveness and others.
Classes are offered in-person or online and include a DVD, workbook, and class discussion with facilitators. Cost is $20. Classes are 13 weeks duration. No registration is needed. For more information contact Matthew Milburn, , or Pastor Jim Josselyn, , / 831-465-3331.