Find help and healing for the hurt of separation and divorce.

New classes start on Sunday, February 18, 2024
Most people will tell you that separation and divorce are the most painful and stressful experiences they've ever faced. It's a confusing time when you feel isolated and have lots of questions about issues you've never faced before.
DivorceCare groups meet weekly for 13 weeks to help you face these challenges and move toward rebuilding your life. Each session has two distinct elements:
A Seminar with Experts
During the first 30–40 minutes of the meeting, each DivorceCare group watches a video seminar featuring top experts on divorce and recovery subjects. These videos are produced in an interesting-to-watch television magazine format featuring expert interviews, real-life case studies, and on-location videos.
A Support Group with Focus
After viewing the video, DivorceCare group participants spend time as a support group, discussing what was presented in that week's video seminar and what is going on in the lives of group members.
Class meets 10:45 am, Sundays Feb 18- June 2




The cost is $20




Room 8122 (modular)
For more information contact Matthew Milburn, , or Pastor Jim Josselyn, / 831-465-3331.
Testimonies
"Divorce care has given me hope that better days will come, faith that God has a plan for me, and a community of friends that give me purpose in life to keep going because I know I'm not alone."
"I was stuck and in significant denial. Divorce Care helped me see that there was hope for navigating my path in a healthy way. I found support, compassion, friendship, and fun that I didn't think I would experience in a church group!"
"DC has impacted my life in more ways than I can count. When I walked through the door I felt overwhelmed, heartbroken and deeply ashamed of my situation. DC was a lifeline of hope and continued to anchor me in both the love of God and the way Christ calls me to behave throughout this unbelievably painful process. It is the embodiment of how the body of Christ truly loves us, helps us carry our burdens, and continues to uplift us when we feel like we are out of strength to carry on."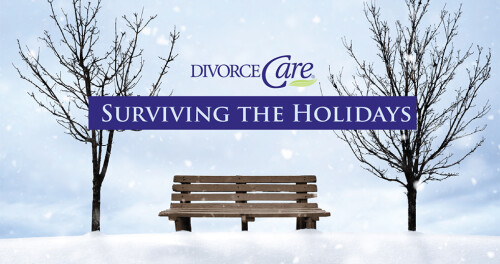 Help and hope as you navigate the season
Post-breakup holidays look different
After separation or divorce, your Thanksgiving and Christmas holidays won't look the same as they used to. Traditions change. Some family members won't be there. Social gatherings can feel stressful. But DivorceCare Surviving the Holidays can help!
What is DivorceCare Surviving the Holidays?
This short event includes a video, sharing time, and a "Survival Guide" filled with tips and encouragement for managing the holidays after separation and divorce.
How will it help me?
By attending Surviving the Holidays, you'll learn how to:
Manage difficult emotions
Survive social events
Give your kids a good holiday experience
Find hope for your future