12 Step Recovery Groups
Our 12-step recovery meetings are a fellowship of men and women who share their experience, strength, and hope with each other, in hopes that, with God's help, we may solve our common problem and help each other to recover from our addictions and compulsive behaviors.
The only requirement for attending is a desire to stop our self-destructive patterns.
If you would like to speak to a pastor on staff regarding your struggles with any kind of addiction please email .
Mondays
BELOVED Women's Recovery Support: Live and Zoom 10-11:30am. Rm. 8112. Please email for more information. You are God's BELOVED daughter and He wants you to live free from the binding shame of behavior patterns, addiction and codependency. This group is a safe place where anonymity is honored and vulnerability is encouraged. Meets weekly.
Rigorous Honesty Meeting: Live and Zoom 7-8:15pm, Monschke Hall (7000 Building) or email for the Zoom link. This meeting is open to all who are dealing with any recovery issue or have a family member who is struggling. Meets weekly year-round.
Please RSVP for this meeting at .
Women's Recovery Retreat - Writing Your Story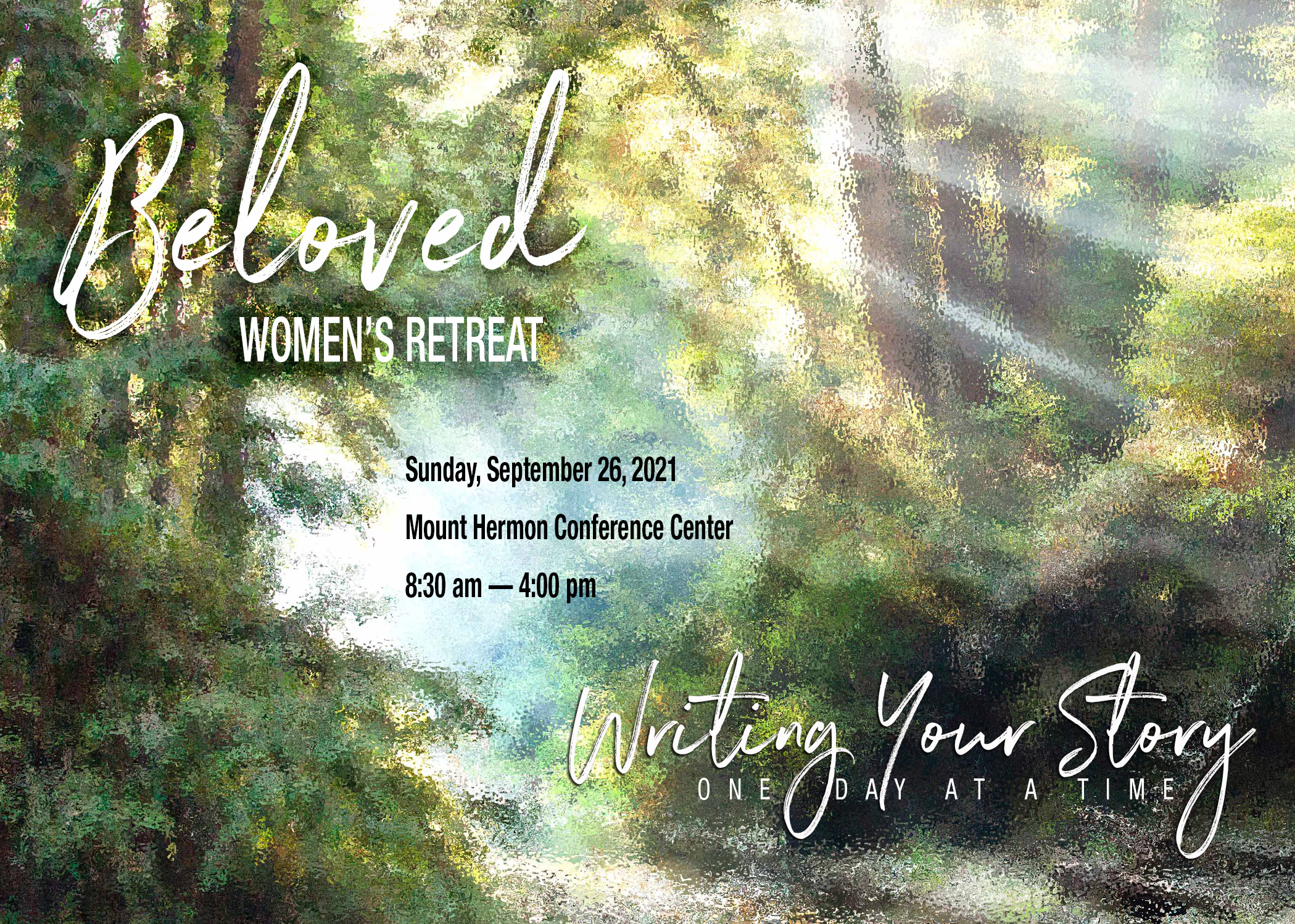 Come join us Sunday, September 26th for an enriching day of rest, reflection, and connection in the beautiful woods of Mount Hermon. The theme of this retreat is "Writing Your Story - One day at a time". Through recovery, we learn to see ourselves through a new lens as God's beloved women. We learn to embrace the new story God is writing in our lives and let go of our old storyline.
We will start the day off with coffee and pastries (Mount Hermon's coffee shop will be open as well). The opening session will feature a few keynote speakers covering various addictions, codependency, grief, and negative behavior patterns. There will be a time for guided meditation and prayer in and around our beautiful amphitheater in the redwoods. Multiple workshops will be available in the afternoon for your choosing, including dealing with grief, a panel discussion Q&A, and a Zoomba class.
Pack a picnic lunch or purchase a Togos box lunch with your registration. There will also be plenty of space in the day for hiking and fellowship.
Thursdays
Grace Recovery - Live and Zoom 7-8pm. Monschke Hall Rooms 7106 & 7107 or email for the Zoom link. This meeting is open to those struggling with alcohol (AA) or drugs (NA). Meets weekly.
Please RSVP for this meeting at .
Men's Locker Room
REAL MEN. . . REAL ISSUES . . . REAL FREEDOM . . .
MEN'S LOCKER ROOM (A recovery group for men striving for sexual purity) For more information, day, time and how to attend contact Mark 925-783-4010 or email .
Divorce Care
Find help and healing for the hurt of separation and divorce. Topics include facing depression, loneliness, new relationships, financial survival, kid care, forgiveness and others.
Classes are in person. There is a DVD, workbook cost is $16, and class discussion with facilitators. Classes are 13 weeks duration. No registration is needed. More info contact Pastor Jim Josselyn, , or 831-465-3331.
Fall 2021 session begins Sunday, August 29th, 10:45am-12, Rm. 7107. No preregistration required.
DIVORCE CARE SURVIVING THE HOLIDAYS - After divorce the holidays can be very difficult. A one session seminar will be offered to help you find strength, healing and tools during the holidays. This session will be held Sunday, November 21st, 2021, 10:45am-12pm, Modular Rm. 8122. There is a DVD and class discussion with facilitators.