Small Groups are how we connect & care for each other.
For small group hosts/leaders:
Fall 2021 Church-wide Study

September 25 - November 14 (8 weeks)
Join us for a deep dive into Hebrews 11 and the inspiring stories of imperfect Bible characters demonstrating life-changing faith! All the study resources, including the book, sermons, and weekly videos can be found at
For more information about joining a small group or for leader support, contact us –
Jim Josselyn:
Current Groups & ClassesTLC Studies and Books
'How-to Video' for RightNow media virtual groups
---
The goal of TLC's Small Groups Ministry is to make a large church feel small. We want to help believers connect with one another through Bible study for fellowship, prayer, encouragement, support, service, worship, accountability, and simply doing life together.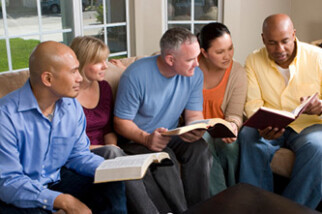 "For where two or three gather in my name, there am I with them." — Jesus (Matthew 18:20)