Does the uncertainty and chaos of life right now keep you up at night? You don't have to let worry and fear control your life. Based on the book "Anxious for Nothing" from New York Times bestselling author, Max Lucado, our five-week New Year series dives into Philippians 4:6-7—the most highlighted passage of any book on the planet, according to Amazon. Let's start 2021 on an intentional spiritual journey into more joy, physical renewal, and contentment in the New Year!
THE BOOK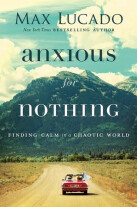 Anxiety is at an all time high, but there's a prescription for dealing with it. Max Lucado invites readers into a study of Philippians 4:6-7 where the Apostle Paul admonishes the followers of Christ, "Do not be anxious about anything . . ."

Click Here to order the book from us and we deliver!
Call 831-465-3300 or email to order the book for pickup at TLC.
THE STUDY

In this five-session video Bible study, Max Lucado explores God's promise in Philippians 4:4–8 and shows that while anxiety is part of life, it doesn't have to dominate life. As you follow God's prescription for worry – celebrate his goodness, ask for help, leave your concerns with him, meditate on good things – you will experience his peace. You can stop letting anxiety rule your day and find true calm and contentment in Christ.