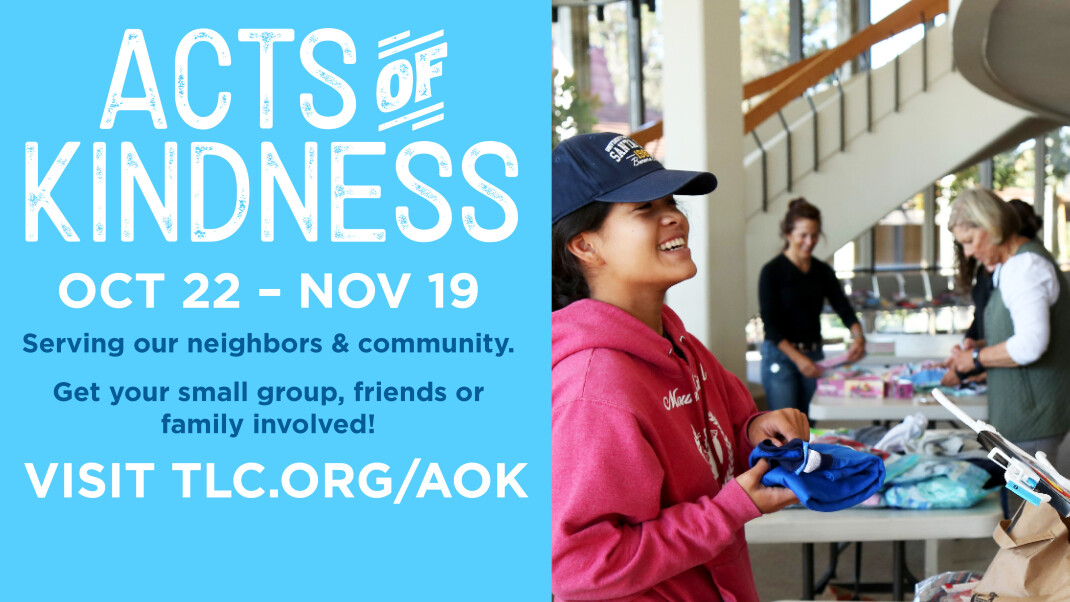 October 22 - November 19, 2022
"…they shared with those in need…with joy and generosity."
Acts 2:45,46
October and November are our Acts of Kindness Months!! Our desire is that many people within the congregation will participate in some project to show kindness to our community.
GOAL: We are challenging all small groups, families or friend groups this Fall to come up with a service project and to complete it before November 19th. Ideally and what has more lasting effects, is when an individual, family or small group reaches out to someone they know personally – maybe a neighbor or co-worker of someone in your group who is in need or a school that your kids attend that has a need. Clean up and weed a widow's yard, help repair or paint at a neighbor's home or a shelter or other community building, clean up and landscape at your child's school, serve at a food bank, make cookies and encouragement cards for public servants, or cook a meal for a group of elderly folks. The possibilities are limitless!!
FUNDS: If you are lacking funds for your project, we do have a limited amount of funds to award to groups. Email to submit a request for funding.
NOT IN A GROUP or NEED A PROJECT: For those of you who do not have a group to work with or your group needs a project, you can sign up for one of the service projects listed below. If you have questions, email
OCTOBER 22, 2022 - Projects On This Day
Assemble Gift Bags for Watsonville High School Staff

Encourage and support the entire staff by giving them a gift bag full of goodies.
We will assemble at TLC in Monschke Hall 7107 and 7108 at 9:30 AM to assemble the bags.
If you want to help out, please sign up at here
Questions: Contact Robin Spurlock at .
Project Pajamas

Help sort, bag and deliver NEW pajamas to kids in transitional housing situations (foster care, homeless, etc.) or who are dealing with cancer (Jacob's Heart).
NEW pajamas for boys and girls, infants through 18 years old can be donated in the barrels in the lobby before October 20th.
On Saturday, Oct. 22nd, we will gather at 9 AM in the TLC church lobby.
To sign up, contact Ari Symons at
Bring a box of ziplock gallon sized bags and a black sharpie.

Homeless Garden Project

Helping construct a new chicken hut, weeding, helping with cover crops, and bring mulch to some of the paths.
Meet at the Homeless Garden Project at Shaffer Rd. at Delaware on the westside of Santa Cruz from 10 AM to 4 PM.
Bring a full water bottle, snacks, gardening glove and a signed waiver form with you.
If you would like to help with this project, sign up at here
Questions: Contact Omar Guzman at

Parajo Valley Shelter Services

Painting three small bathrooms
Located at 115 Brennan St. in Watsonville
Bring paint brushes, painter's masking tape, speckle and small step ladder
Questions: Contact
Sign up at here

DONATIONS NEEDED BY OCTOBER 20TH

If you would like to just donate items needed for these projects, here is what we need!
Supplies for Gift Bags for School staff - If you would like to donate some of the items we are including in the gift bags, please drop them by the church office for Robin or contact her at . 200 of each item listed is needed: yellow highlighter marks, dry erase pens, ball point pens, mints, granola/protein/cereal bars, fun-size candy, $10 gift cards to a coffee shop, $15 gift cards to an eatery (Togo's, Chipotle, Jamba Juice, Gayle's, The Farm, etc.), lip balm, snack size nuts or dried fruit, travel size hand sanitizer, hand wipes and pocket Kleenix packets. If your small group would like to commit to providing a large amount of several of these items, please email so she is aware of your involvement.
New Pajamas - For Project Pajamas! Infant to size 18 for boys and girls. NEW ONLY. Donations can be placed in the marked barrels in the church lobby.
Items for the Homeless - we are collecting new and gently used sleeping bags (must be self-contained in a bag), day backpacks and winter adult coats for the unhoused. Donations can be placed in the marked barrels in the church lobby. Any questions contact
October 13th, 20th and 27th - Preparing/Serving Meal to Homeless
We are looking for people to help prepare and serve a meal to our unhoused guests in our Rotating Shelter program at St. John's Church in Aptos.
We need 5 people to make the main dish, veggie dish, salad, dessert, and bread/milk.
You bring the meal at 5:30 PM and help serve it, talk with the guests and you are done around 6:30 or 7 PM
To sign up click here
For more information contact
October 22 - November 13, 2022
SECOND HARVEST FOOD DRIVE

Drop off canned, boxed and bagged dry goods in the bins provided in the lobby.
Give monetarily - mark your donation online or on check memo FOOD DRIVE.